Gibson Les Paul Special P90 TV Yellow Electric Guitar Review
Welcome to my full review of the Gibson Les Paul Special in TV Yellow. The Gibson Les Paul Special is loaded with two Gibson P90 pickups and features the classic TV yellow color from the days of old
I paid full price for this guitar at a local music shop, and it was not a gift from Gibson, nor does Gibson have any input into my posts or videos. This is my full review of the guitar I currently own and play a lot.
First Impressions
When I first opened the box to this Gibson Les Paul Special with P90's, I knew I was in trouble. It was apparent early on that I loved what I was observing.
My first impression of the TV Yellow finish is that I like it more than the majority of the standard Les Paul finishes I've owned in the past. I loved the fact this new TV Yellow Gibson Les Paul special was much lighter than a Standard version.
This left-handed Gibson Les Paul Special played perfectly straight out of the box. I have not made any changed to the action or intonations since owning this guitar.
Guitar Fit and Finish
This TV Yellow finish is one of my favorite colors I've seen on any guitar in recent times. The finish is a Gloss Nitrocellulose Lacquer that smells as good as it looks. I had a friend of mine say the scent reminded them of a vanilla cake! Haha.
The gloss is also clear/transparent that allows you to see through the wood grain under it. The back of the guitar and back of the neck is also TV Yellow. I know this color might not be for everyone, but I think it is unique and full of character in a World-full of Gold Tops!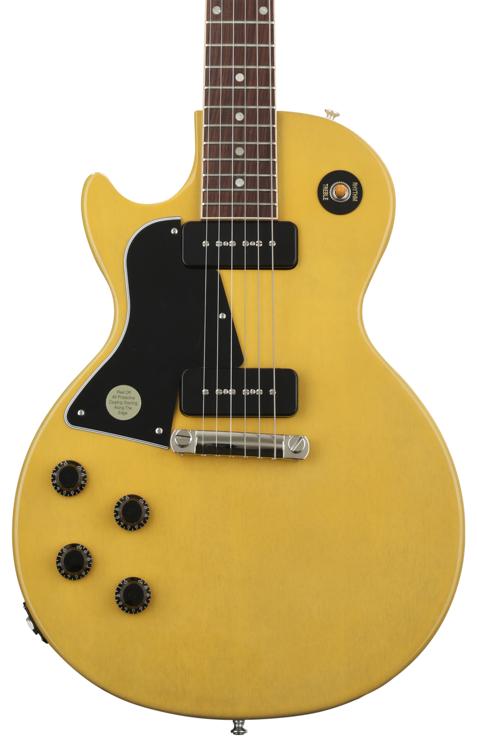 What is the deal with TV Yellow?
Back before color TV was standard, white guitars reflected a lot of light on camera. Gibson painted their guitars in TV yellow to help combat reflections, and it worked. On camera in a black and white setting, the TV Yellow still looks white. Viewers had no idea this sort of movie magic was at play. The result looked the same, and it made the job of the lighting and camera operator a lot easier.
Pickups and Tone
The P90 single-coil pickups that Gibson makes are great. Gibson has been making P90 pickups for so many years, and they nail the overall output and tone big time. The bridge pickup is by far my favorite on this Gibson Les Paul Special. This bridge P90 pickup is on par with the Gibson VOS custom shop pickups I have owned and tested in the past. The bridge pickup sounds great for blues, rock, and will handle as much gain as you want to throw at it.
The Neck pickup has quite a different character to what I was expecting. Overall, the neck pickup has a darker and fatter tone to it than I was anticipating. The neck pickup lends itself to authentic dirty blues tones and thicker, warmer jazz tones on clean.
Using both pickups together will give you very inspiring tones. The Les Paul Special is one of the few Les Paul guitars that I prefer both pickups over just neck on its own. Surprisingly, both pickups will sound great for country music and clean funk tones.
Furthermore, P90s offer a more flexible, clean rhythm tone, in my opinion, over traditional humbuckers. These pickups rock, and I can highly recommend them.
Neck Size and Feel
Another huge benefit for me is the Gibson Les Paul Special in TV yellow has a fat '50s style neck. Notably, if you love the late 50s neck found on the Custom Shop guitars from Gibson, you'll love this! I don't think it is quite as fat as some of them, but it's fatter than the standard models.
Weight
Another critical reason why I purchased this guitar was the fact it was as light as it is. Gibson has used a lightweight Mahogany body and neck, which is a huge bonus.
I am a huge fan of Fender Telecasters, and this is slightly lighter than my old Fender '52 Reissue Telecaster. Most Les Pauls are quite a bit heavier than my Telecaster, so I don't enjoy holding a Les Paul for a full gig.
This incarnation of the Les Paul Special has a slightly thinner body, which allows it to be far lighter than almost any of the prior Gibsons I have owned and tested.
There's no benefit to a heavy guitar irrespective of what you read on the forums. Anytime I am looking to buy a new guitar, I always make sure it is the lightest option I can find at the time.
Frets & Hardware
I can't stand low profile vintage frets. The Medium Jumbo frets will appeal to the majority of the guitarists who like a modern fret.
The pickup selector switch, volume, and tone control all feel up to the Gibson gold standard. Unlike a lot Gibson Les Paul guitars, this Les Paul special does not feature a Tunomatic bridge.
The installed wraparound bridge suits the visual style of this guitar and works a treat. Adjusting the intonation is still possible with the wraparound bridge, but it is not quite as precise as the Tunomatic variation.
The good news with the intonation and wraparound bridge is that it was spot on straight out of the box—credit to Gibson for a fantastic out of box experience.
Value for Money
I always like to keep in perspective the brand, price, and what you get for the money—granted that you could get an Epiphone for far less money. In my experience as good as the Epiphone guitars are, they aren't as good as Gibson. I purchased this guitar as a long-term investment instrument.
Gibson appears to be back making some fantastic guitars, and its great to see them again without the quality control issues in prior years. I've had the chance to test and own a few Gibsons in the last 18 months, including a Flying V and SG, and this Les Paul is one of the best I have ever had my hands on while being far from the most expensive.
---
Here is my video review a few weeks after purchasing the Gibson Les Paul Special in TV Yellow. Don't let the thumbnail fool you; I love this guitar.
---
Best Deals Online
You can find the best deal online from the websites below:
---
Included Accessories
Included with the Gibson Les Paul Special is an "Authentic" Gibson hard case. I was static t see Gibson are including quality hard cases with this line of guitars. Additional gifts in the hard case is a Gibson guitar strap and a Swiss Army Knife-style Guitar tool. This tool allows you to adjust anything on the guitar, including the truss rod, bridge height, and more. The guitar strap is leather and is comfortable and reliable.
Who Should Buy This Guitar?
This Gibson Les Paul Special in TV Yellow is for someone who wants classic single-coil tones of days gone by without the hefty price tag. I have played many cheaper alternatives to this guitar. They do not sound like a Gibson Les Paul with Gibson P90 pickups.
The tones of this Gibson Les Paul Special will handle just about anything you will throw at it tone-wise and musical genre-wise.
Who Should Avoid this Guitar?
I wouldn't recommend this guitar to someone who has issues with single-coil pickup buzz. Electronic buzz/hum can occur in several different ways, its worse with higher gain signals. In other words, metal players should opt for a humbucker alternative for the best results.
It's important to realize that this guitar is not well matched for super-high gain players. Additionally, anyone who can't go without a Tuneomatic bridge should give this guitar a miss.
Concerns or Quality Control Issues
None! Mine played perfectly out of the box. I haven't done anything to set up straight out of the box.
My Overall Opinion
In conclusion, I am pleased with this guitar. It's one of the best Gibsons I have played, and it was the reason I ended up buying it. The inclusion of the hard case and accessories was a refreshing surprise. I remember buying other Gibsons around the same price many years ago, and they only came in a gig bag. Guitarists who want an alternative to a Humbucker loaded guitar that looks super-cool, this is worth a shot.
Comparable Left-Handed Guitars
Gibson VOS 56
Gibson Les Paul Junior.
Epiphone Les Paul Custom Pro
Epiphone Les Paul Special
Harley Benton DC-JR
Check out all of my Left-Handed Guitar Reviews
Tech Specs
Body Type:

Solidbody

Body Shape:

Les Paul Special

Left-/Right-handed:

Left-handed

Number of Strings:

6

Body Material:

Mahogany

Body Finish:

Gloss Nitrocellulose Lacquer

Color:

TV Yellow

Neck Material:

Mahogany

Neck Shape:

Vintage '50s

Radius:

12″

Fingerboard Material:

Rosewood

Fingerboard Inlay:

Acrylic Dots

Number of Frets:

22, Medium Jumbo

Scale Length:

24.75″

Nut Width:

1.695″

Nut Material:

GraphTech

Bridge/Tailpiece:

Wraparound

Tuners:

Vintage Deluxe

Neck Pickup:

P-90 Single-coil

Bridge Pickup:

P-90 Single-coil

Controls:

2 x volume, 2 x tone, 3-way toggle pickup switch

Strings:

Gibson, .010-.046

Case Included:

Hardshell Case

Manufacturer Part Number:

LPSP00LTVNH1