Left Handed Guitar Shops by Location
Here is a full list of all of the dedicated left-handed guitar shops in the World by location.  The stores on this list only sell left-handed guitars, basses, and mandolins.  If you are a left-handed guitarist, you'll get a kick out of these shops if you have never been to one before.  I have added a google maps reference for each of the physical shops so you can easily find where to go.  This list will be updated as new shops emerge around the World.
USA
The United States of America has many amazing left-handed guitar shops.    One of the best things about each of these stores is they specialize in different brands and different styles.  Each store has something unique and exciting to offer.
---
Southpaw Guitars – The Original Left-Handed Guitar Shop
Website – Southpaw Guitars
All of the shops on this list have Southpaw Guitars to thank for their inspiration.  Jimmy, the owner of Southpaw guitars, is a lovely guy and is the pioneer of the left-handed guitar shops around the World. Jimmy started his business back in 1980, and it has been a staple of the left-handed guitar scene ever since. I have spoken with Jimmy several times, and it's always been a pleasure. Southpaw guitars offer a vast amount of brands, including Fender, G&L, Heritage, Ibanez, and many more.
Southpaw also carries in custom orders such as left-handed Fender signature guitars that are not available in any other shop.  This approach helps separate what he does from every regular shop in the World. If you find yourself in Houston, Texas, this shop is well worth a visit!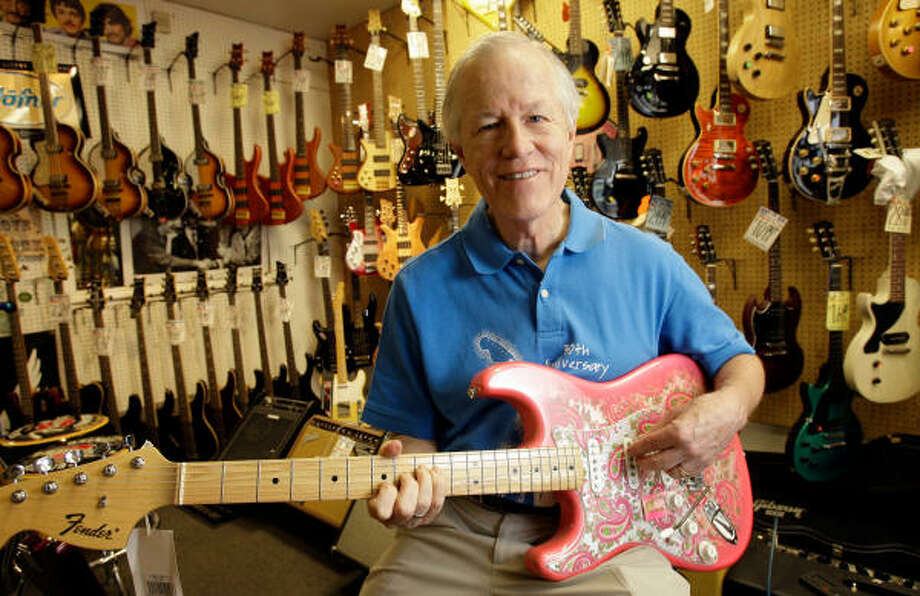 ---
Jerry's Lefty Guitars
Website – Jerry's Lefty Guitars
Jerry's Lefty Guitars is located in Sarasota, Florida.  Jerry opened his business in 2007 after suffering an injury to his left hand. I have visited Jerry's left-handed guitar shop many times to produce videos of his unique collection of acoustic and electric instruments.
Jerry has a lot of guitars custom ordered for his shop, including limited runs of PRS, Tom Anderson, Suhr, and many more.  Guitarists not wanting the same old brands will get a kick out of what Jerry has to offer.
Below is a video I shot at Jerry's Lefty Guitars showcasing his store and what you can expect if you visit it in person.
---
Xtreme Guitars
Website – Xtreme Guitars
Xtreme guitars are one of the new left-handed guitar shops on the block when it comes to dedicated left-handed guitars.  I love the fact Xtreme guitars carry vastly different brands to Jerry's and Southpaw guitars, making them a genuinely unique left-handed guitar shop as well.
As the shop name suggests, these brands appeal to players who love metal and hard rock.  Some of the brands Xtreme guitars carry are Acacia, Charvel, Dean, EVH, Framus, and many more.
David Giunta, the store owner, always had a dream of setting up a unique left-handed guitar who specializes in the best of American-made left-handed guitars.  There's bound to be something here for anyone who likes the pointy side of electric guitars.  Check them out if you have a chance.  After chatting with David via email, he's a nice guy! Located in Palm City, Florida, this is well worth a visit.
---
Lefty Guitars Only
Website – Lefty Guitars Only
Lefty Guitars Only is a left-handed guitar shop that n Boston, MA. This lefty guitar store features a unique electric guitar inventory spanning brands like Blackbird, Collings, PRS Private Stock, Santa Cruz Guitar Company, and many more.
For those interested in acoustic guitars, Lefty Guitars Only have you covered.  This shop started with envy for right-handed options in regular shops, and it could not have worked out better! Below is a quote from their website:
Like many of you, I've spent my life envying right-handed players who can walk into a large music store and choose between dozens of high-end instruments, while we are lucky to find a $200 lefty Fender hanging next to all those Martins and Gibsons.
I can personally relate well to this statement!  Born out of frustration was the birth of the Lefty Only Guitar shop. The shop is well worth a visit if you are in the Boston area.
Pictured above, is Vic (store-owner) onstage with his custom-built left-handed Tiger guitar.
---
Additional Information
Suppose you are new to playing guitar and wonder if playing left-handed is a good option.  Please check out my left-hand guitar faq page for further information. It will give you all you need to know about being a lefty.
---
UK
There is only one shop in the UK that specializes in left-handed guitars, and it is an online shop only.
Another excellent option for people in the UK and EU is Thomann.  They stock a vast amount of lefty guitars at all price points.
Another option is the UK Amazon store. Amazon UK stocks a lot of left-handed guitars at all price points.
---
Left for Dead (UK)
Website – Left for Dead
Maybe the coolest name for a guitar shop ever! Left for Dead is a lefty only guitar shop featuring brands like PRS, Duesenberg, Ormsby, Cole Clark, and many more!  Check out the Left for Dead shop online. Additionally, there is an excellent mix of acoustic and electric instruments worth checking out.
---
Australia
Sky Music
Website – Sky Music
Australia does not have a dedicated left-handed guitar shop.  The next-best and the closest thing to a lefty shop are Sky Music in Clayton, Victoria. They have a massive range of 50+ left-handed guitars.
Artist Guitars
Website – Artist Guitars
If you have ever shopped for guitars online within Australia, odds are you've heard of Artist Guitars.  Artist Guitars make quality guitars very affordable.
---
Denmark
Woodstock Guitars
Website – Woodstock Guitars
Denmark has a fantastic amount of quality guitar shops.  Sadly, there is no dedicated left-handed guitar shop in the city of Copenhagen, you will find some great lefties for offer.  Woodstock Guitars is a shop that has a dedicated wall for left-handed guitars.  They sell both new and used electric and acoustic guitars.
Below is a walkthrough video of Woodstock Guitars in Copenhagen.